NEBOSH Construction Certificate (UK)
ACT are proud to be a Gold Standard NEBOSH Learning partner.
Use the dropdown menu above to navigate through the information for this course.
This course is also available taught live and online as a virtual classroom course.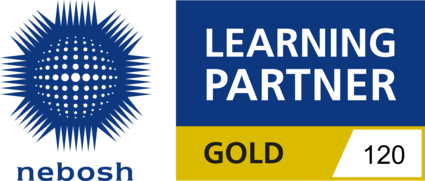 ---
The NEBOSH Health and Safety Management for Construction qualification is a great course for any individual working in the construction industry that requires further knowledge of construction related health and safety. The certificate is held by more than 20,000 people and is a leading construction course in the UK.
This course covers common construction risks, the legal requirements for health and safety in the construction industry within the UK, justifications for health and safety management, and has been strongly aligned with the Construction (Design and Management) Regulations 2015.
ACT are a Gold Standard NEBOSH Learning Partner; this means that we provide high quality learning materials and expert tutors when delivering our training. Our classroom training courses provide a tutor-led, interactive learning experience which is ideal for individuals that work best through tutor engagement, and individuals that are unfamiliar with the subject of the course.
Upon completion of this course learners should be able to:
Advise on duties and manage construction risks under the Construction (Design and Management) Regulations 2015;
Justify the need for health and safety improvements
Produce or contribute to a construction phase plan
Help your organisation to manage contractors
Positively influence health and safety culture and behaviour
Carry out a risk assessment of a construction site and manage a range of construction hazards
Recognise workplace changes and their impacts and understand how to minimise these impacts
Develop basic safe systems of work that include emergency arrangements and know when to use a permit-to-work system
Take part in incident investigations
Enhanced Learning Credits

ACT are approved to provide training through the MoD Enhanced Learning Credit scheme as provider 1003.
This means that this course and many of our high-quality training courses are approved by the MoD for service leavers looking to spend their learning credits accrued through their service career.
Our course advisors are able to guide you through the whole process and we have already helped over 100 learners use their Enhanced Learning Credits to access a new career path!
This qualification is ideal for workers, supervisors and managers that are in the construction sector and need to develop their understanding of health and safety.
NEBOSH qualifications are widely recognised within the construction and health and safety sectors, and a NEBOSH Health and Safety Management for Construction Certificate can be an ideal first step to take in a career in construction health and safety, or provide valuable skills to improve safety within a construction setting.
The course covers moral, financial and legal arguments for the justification of improving health and safety, and successfully completing the course will enable you to advise on duties held by an organisation to manage construction risks.
Requirements:
There are no prior qualification requirements for this course.
An English Language standard of ILETS 6.0 is required for this course.
The NEBOSH Health and Safety Management for Construction course is an occupational health and safety qualification that covers the main legal requirements for health and safety practice on construction sites across the UK, including a focus on Construction (Design Management) Regulations 2015. It includes information on health and safety management and the identification and control of construction risks. This is reflected in the 13 elements that comprise the qualification.
Unit NC1:
Element 1 – The foundations of construction health and safety management
Element 2 – Improving health and safety culture and assessing risk
Element 3 – Managing change and procedures
Element 4 – Excavation
Element 5 – Demolition
Element 6 – Mobile plant and vehicles
Element 7 – Working at height
Element 8 – Musculoskeletal health and load handling
Element 9 – Work equipment
Element 10 – Electricity
Element 11 – Fire
Element 12 – Chemical and biological agents
Element 13 – Physical and psychological health
NEBOSH recommend that learners undertake 40 hours of self-study in addition to the taught hours of this course.
This qualification is assessed with an Open Book Exam (OBE) Unit NC1. This OBE covers content based on all 13 elements and provides a workplace-based scenario to refer to as you work through your exam questions.
During the OBE, learners are able to use their own materials such as course notes, study books, the HSE website, and other research to help them in answering the questions.
The OBE is conducted over a period of 48 hours. It is intended that you will use your time during this period to research, plan and fully answer your questions, whilst also providing the flexibility to take breaks.
Further information about the Open Book Exam can be found in this PDF.
Select Course